The 2014 Fall sports schedules have been posted online. Just click on the "Schedules" tab at the top of the page.
Tomorrow 5-1 baseball and softball at Southern, if cancelled, it will be played Friday, May 2.
Saturday, May 3, baseball and softball will play Westover at 4:00  VARSITY only
Soccer tomorrow 5-1, if not, it will NOT be made up.
Soccer will play Friday 5-2 at Southern
Meet the Jackets for Spring Sports will be held Tuesday, February 25 at 6pm  in the Main Gym.  There will be team meetings as well as parent meetings with the Spring sports coaches. Athletes need a current physical to be eligible to participate in spring sports.
Faculty and staff of LCHS would like to congratulate Pressley Hales and Thomas Ferguson on their signing letters of intent to play football for Campbell University Camels beginning the fall of 2014.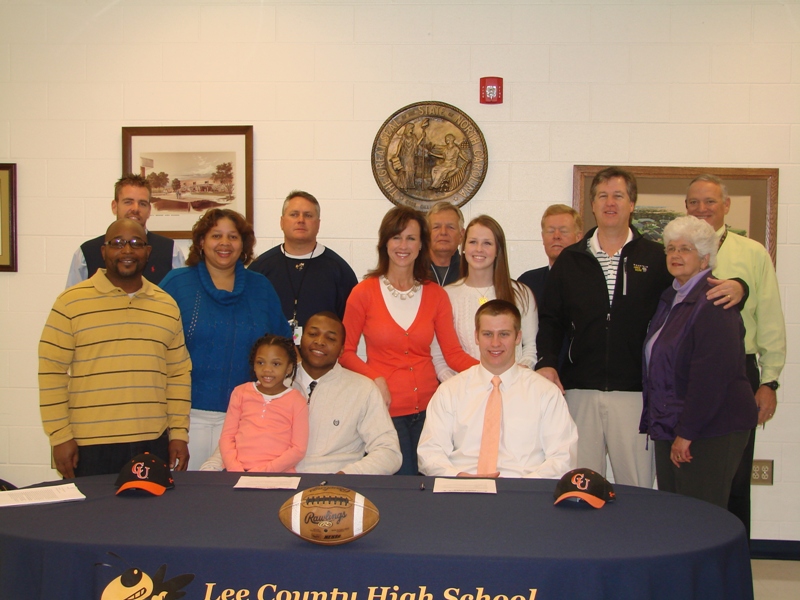 Pictured are:  Principal, Kenna Wilson, Athletic Director Reggie Peace
Coaches:  Burton Cates, head coach, Greg Hardin, Charles Arrington, Frank Thompson, Foster Cates, asst. coaches.
Kim, Sydney, Stan and Mrs. Hales with Pressley, as well as Leigh, Joey and Maylonnie Downey with Thomas.
All games for tonight have been postponed. Our conference swim meet has been rescheduled for Jan. 23 starting at 6. The Southern game has been rescheduled for Feb 6 at Southern with the varsity girls starting at 6. JV's play at Southern starting at 5.
Thank you,
Reggie Peace
Athletic Director/Boys Basketball Coach
Lee County High School