Thursday, October 15th
LEE COUNTY GIVES BACK!
Lee County volleyball will host Southern Lee on Thursday, October 15th to benefit the Kay Yow Cancer Fund.
Over the past seven years, Lee County High School Athletics and its Booster Club have donated thousands of dollars to Breast Cancer Research and Awareness.
Volleyball and Powder Puff Football are partnering to support the Kay Yow Cancer Fund to deliver a Yellow Jacket one two punch to fight like a girl and fight breast cancer!
We hope you will join our teams, in either donating, working, coming to an event, or encouraging others to participate, let's work together to help wipe out this terrible disease!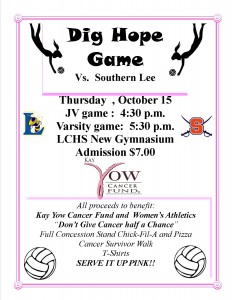 Powder Puff game will be 10-20 at 6:00 on McCracken Field.  Cost of game $5.00 proceeds go to Kay Yow Cancer Fund and LCHS women's athletics!! 
For ladies wanting to participate in the Powder Puff game click here!
Monday, September 14th
There will be a booster club meeting in the Lee County High School cafeteria at 6pm. Please attend and support student athletes.  The Lee County High School Athletic Booster Club serves the school by providing supplemental funding for identified needs for all Jacket athletic teams, men and women.
Monday, August 10th, 2015
UPDATE!!!! Falls Sports will hold Meet the Jackets for players and parents on Monday, Aug 10 at 7 pm in the MAIN GYM.   All fall sport athletes and their parents/guardians should attend. Your entire family is invited. The spirit trailer will be open. Parents/Guardians/Players will meet with their individual coaches to sign required paperwork. This is a very important meeting for all fall athletes and thier families.  The Booster Club will have Booster Club Packages available.  See you there!
Booster Club Packages vs. $7 Entry Fee per game
DOWNLOAD YOUR FORM AND MAIL IT IN TODAY!!!!!!
Gold Membership ($135.00) Greatest Value!
2 – All-Season, All-Sport Passes
Parking Pass for Home Football Games
Yellow Jacket Limited Edition Tervis Mug
Blue Membership ($75.00)
1 – All-Season, All-Sport Pass
Parking Pass for Home Football Games
Yellow Jacket Limited Edition Stadium Blanket
Student Passes ($35.00)
1 All-Season, All-Sport Pass
 Sport

# of HOME Games

Entry Fee  

PER Person

Total for Season

Cross Country

2

$7.00

$14.00

Football 

7

$7.00

$49.00

Volleyball

10

$7.00

$70.00

Womens Tennis

7

$7.00

$49.00

Basketball

11

$7.00

$77.00

Womens Basketball

11

$7.00

$77.00

Wrestling

6

$7.00

$42.00

Baseball

11

$7.00

$77.00

Softball

11

$7.00

$77.00

Mens Soccer

9

$7.00

$63.00

Womens Soccer

10

$7.00

$70.00

Mens Tennis

6

$7.00

$42.00

Saturday, August 8th
Come see your favorite Lady Jackets play their 1st volleyball scrimmage.   Cheer for our team as we begin getting warmed up for the season and enjoy the friendly competition!
Time:  9am – 4:00 pm
Cost: $5 entry fee, children under 12 free.
Where:  Main Gym – Varsity / Auxillary Gym – JV
We will welcome:
Southern Lee
Grays Creek
Hoke
Ravenscroft
Cape Fear
South Johnston
Jack Britt
 We will have full concessions to benefit the Lee County Booster Club.
Biscuits
Popcorn
Pizza
Chic Fila
Snacks and candy
Water
Soda
Saturday August 1, 2015
Please volunteer to help the Cross Country Team with the trail clean-up this Saturday at 8:00 am!  Bring your work gloves.
Runners and volunteers should meet at the cross country shed at the practice fields.
Additionally, the first practice will be Monday, August 3rd at 3:00 p.m.  and will last until approximately 5:00 p.m.
Tuesday July 28, 2015
Sports Physicals will be available at Lee County High School on Tuesday, July 28 at 5:30pm in the main gym.  The cost will be $20.
All athletes must have a current physical as well as correct/current paperwork to be eligible to practice.  Forms may be downloaded under our forms tab, or packets can be picked up to complete in the main office.