Monday, November 13th, 2017 6pm 
Main Gym (before Meet the Jackets)
Any student athlete parent that wishes to represent their child's athletic team please join us. Bring a friend!
Please come and represent your child's sport! We welcome all parents that want to volunteer at Lee County High School. The Lee County High School Athletic Booster Club serves the school by providing supplemental funding for identified needs for all Jacket athletic teams, men and women.
Lee County High School

Bricks will be placed top to bottom on a first paid, first serve basis. 
Order your brick online at
The LCHS Athletic Booster Club is thrilled to announce that we will be initiating our very first honor wall fundraiser. Students, school oriented clubs, organizations and businesses now have the privilege to engrave their names and their memories on campus. This is your chance to leave YOUR mark at Paul B. Gay Stadium – the home of the Yellow Jackets!  A 5' x 30' honor wall will hold your name and class for a lifetime.
This permanent addition to Lee County High will be admired by students, teachers, faculty, and Yellow Jacket fans for many years. These red clay bricks will be available in two different sizes and will mark the achievements and express the gratitude of those whose lives have been touched by Lee County High School.
LAST DAY TO ORDER IS MARCH 15TH! Pay online, mail check or see a Booster Club Officer!
We have three sponsorship options available:
4×8 – $100 Brick  (contains 3 lines WITH LOGO  or 4 lines NO LOGO – 18 characters per line, a logo can be added for an additional $10)
8×8 – $200 Brick (6 lines with 18 characters per line, a logo can be added for an additional $10)
Souvenir Brick – $35-$40 (1.5 x 3 x ½ or 3 x 3 x ½) Smaller option: a miniature brick (fits in your hand, felt backing) replica of the brick you choose above. Must purchase 4×8 or 8×8.
8×8 – $300 Business Logo Brick (Business logo only)
~Remember a loved one~
~Recognize a graduation year~
~Honor someone special~
~Join with classmates for a class brick~
~Celebrate championships with a team brick~
~Set your name in stone for decades to come~
GO JACKETS!!!!! 
If you have any questions contact us via email at lchsyellowjacketbooster@gmail.com.
Booster passes for 2017-2018 are on sale now! We have several packages to choose from.  STUDENTS – Don't pay $7 per game!!!
Mail in your payment and pick them up at the main gym on Saturday, August 12th from 9am – 2pm!
Saturday, August 19th
Meet outside of the Football Stadium at 7:30AM-11:30AM – We would like to have our 1st clean-up of the year on 8/19 beginning at 7:30am. Please bring gloves, shovels, rakes, hoes and dress cool! We will be removing grass from the sidewalks and flower beds.  If you or your student is interested in helping that would be great!!! For the students, we will be keeping a log of volunteer hours to help them keep track of how many volunteer hours they have for the booster club. Many clubs and college scholarship applications require it. LET ME KNOW IF YOU PLAN TO ATTEND, I WILL BRING BISCUITS! Any questions email lchsyellowjacketbooster@gmail.com
See our calendar tab for Football, Men's Soccer and Lady Jacket Volleyball schedules as of 06/28/17~ Click on Look for More in the calendar section.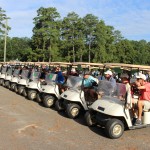 GOLF TOURNAMENT Saturday, May 20, 2017
Please come out to Sanford Golf Course and play some golf!
This is our largest fundraiser of the year and without your support we will not be able to provide the necessary items for our student athlete sports programs. Come out and "Hit the Links", have some lunch and have some fun!
Play with foursome of your choice. Your foursome is your team.
Don't have a full team? Sign up and we will place you on a team.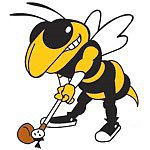 Date:       Saturday, May 20th
Place:      Sanford Golf Course
Cost:       $60.00 (Per person, includes Green Fees, Carts, Lunch)
Time:      8:30 am Shotgun Start – Parent Child – 88 players/22 teams
                 1:30pm Shotgun Start – 4 Person Captain's Choice – 88 players/22 teams
Lunch:    Served at Noon
Prizes:  Longest Drive and Closest to the Pin!     
Any questions or interested in being a hole sponsor , click the link and download or email: lchsyellowjacketbooster@gmail.com.
Fun from last year!
The LCHS Athletic Booster Club Scholarship is available to graduating senior athletes planning to attend college in the fall. Applications are available in Guidance and must be RETURNED TO GUIDANCE by Monday April 17th!
Scholarship Criteria
To qualify, the scholarship applicant must:
A. Be a Lee County High School Student Athlete for a minimum of 2 years. (JV or Varsity)
B. Carry a minimum GPA of 3.2 weighted as of March 1, 2017.
C. Attach a one-page typed (double-spaced, 12 font) essay on:
1. How has sports shaped the person you are today?
2. How will this scholarship meet your career goals?
Awards will be determined by the above criteria and:
* Essay Content * Extracurricular Activities * Booster Club Participation
Congratulations to this years winners!
Anna Beth Adcock
Khaira Bolden
Madison Britt
Pate Bryan
Payton Holt
Tessa Lett
Jackson Tickle
Marissa Thomas
Cameron Tyndall
Ethan West
For information on Booster Club Membership packages please visit the tab Booster Club Info, drop down to Booster Club All Sports Packages and download a form!  You can also purchase one at the football game Friday, August 26th.  The GAME AUGUST 26th is an ENDOWMENT GAME and we will not be able to accept passes but you will be able to use them for all other regular season games.  Entry is $7 cash, the booster pass covers all regular season play for all sports.