All spring sport athletes, their parents and family members are invited to attend the Spring Athletic Awards Night Tuesday, May 28 at 7:00 PM at McLeod Auditorium.  Athletes from Men's and Women's track, JV and varsity baseball, JV and varsity Softball, Men's Tennis, Men's Golf, and JV and varsity Women's Soccer will be recognized by receiving awards, letters, stars, and letter jackets for the third varsity letter.
Alex, a two year letterman at LCHS has signed with Wake Technical  Community College to play baseball.  He is a short stop, pitcher, or infielder.  He is the son of Maria and Scotty Scott, and is featured in photos here with his brothers Aaron and Alston.  Also pictured are Principal Greg Batten, Athletic Director Steve Womack and Coach Charlie Spivey.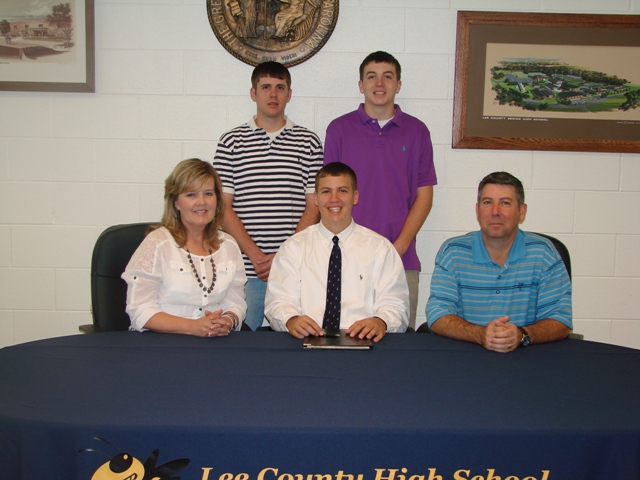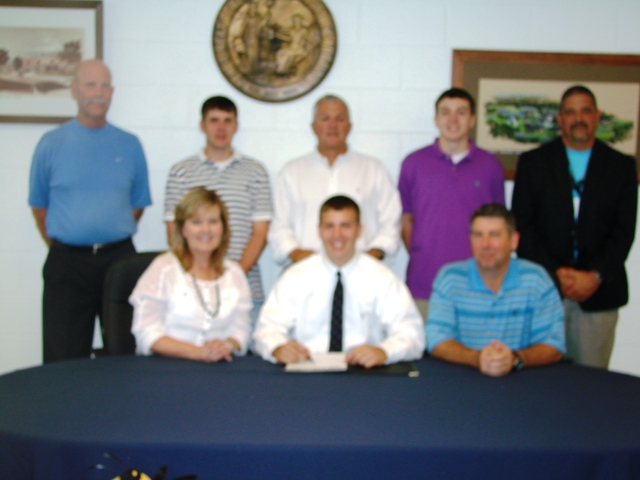 The annual Lee County High School Boosters Club Golf Tournament is set for Saturday, May 18.Parent-Child division will tee off at 8:30 AM and 4 Person Superball will tee off at 1:00. Lunch is Included with the $50.00 entry fee. Also, Hole Sponsors are needed as well. For a business to be a hole sponsor, a $100.00 donation should be made to the Booster's Club. If you have questions, contact Steve Womack-Athletic Director at 919-775-9827 ext 4347 or Mike Setzer at 919-499-3487
Anyone interested in running cross country this fall (including rising freshmen), needs to meet with Coach Giddens and Mr. Bickert after school May 10th at 3:30 in room 2104 in the academic wing (Giddens room). The meeting should last no more than 30 minutes, and students need to bring their up to date physicals
New Varsity Cheer Coach Emily Carroll will hold varsity and junior varsity cheer tryouts for the 2013-2014 athletic  seasons on May 15, May 16, and May 17 in Packard Gymnasium on the campus of Lee County High School.  Tryouts will be from 4:00 PM- 6:30 PM each day.  Prospective cheerleaders MUST have a current physical in order to tryout.  If you have questions, email Emily Carroll at ecarroll.bway@lee.k12.nc.us
Ben Grossfuss, a senior forward signed to play soccer for the Lynchburg Hornets this fall.  Ben played both football and soccer here at LCHS, and is joined in our photos by his parents Libby and Kevin Grossfuss, Coach  Brad Wicker, Athletic Director Steve Womack, and Asst. Principal Frank Thompson.  On behalf of the entire LCHS athletic family, congratulations to Ben and best of luck next year!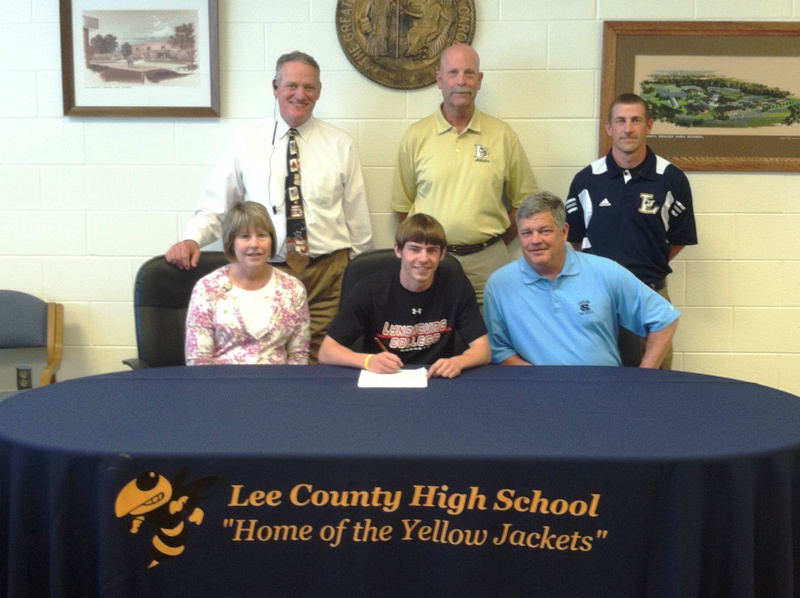 Mark your calendar now. The 2013 varsity football schedule is now available. Click "here".